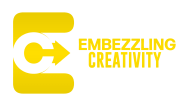 Learn to build your business, mindset & wealth by turning obstacles into opportunities. Join the tribe today!
You're a freethinker that desires to spread your solutions to your community.

You're a lifelong learner that's dedicated to thinking critically to challenge the status quo.

You're someone willing and able to share your knowledge & experiences for the betterment of the tribe.
Stream Embezzling Creativity Now
Below are a few of the most important episodes from Embezzling Creativity. These episodes are in no particular order.
Copyright 2023 © All Right Reserved. Design by Embezzling Creativity for EC Nation.